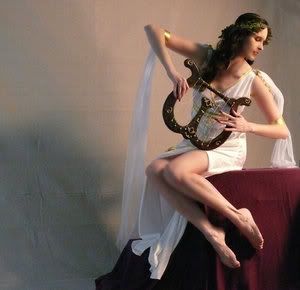 Erato, the muse of love poetry.

I think the only real tribute I have is to try my hand at poetry aimed at love, so this is what I have for today. Bare with me as I rarely develop poetry on a regular basis and this is very rough.

Love Says "What?"

Who says love is kind?
It is a force that is life-changing,
shattering,
hopeless
to control.


Who says love is tender?
It is weighted and heavy,
burdened,
loaded
with care.


Who says love is easy?
It is everyone's greatest challenge,
competitive,
interchangeable
with hate.


Who says love is wise?
It is the craziest thing,
unpredictable,
stranger
than a purple sky.

-----------------------------
Dew and the Waters
As a child
my cup was small
and all the dew drops
filled it all.
As I grew
the cup grew too
and more than dew drops
could fill it through.
As I age
more water I crave.
At first I needed Philia,
friends and family gave.
Emotions grew.
The cup had demand
to be filled with Eros.
I had to find a man.
Mind and body connect.
Awakened now to the soul.
Needed now Agape love,
to divine power enroll.